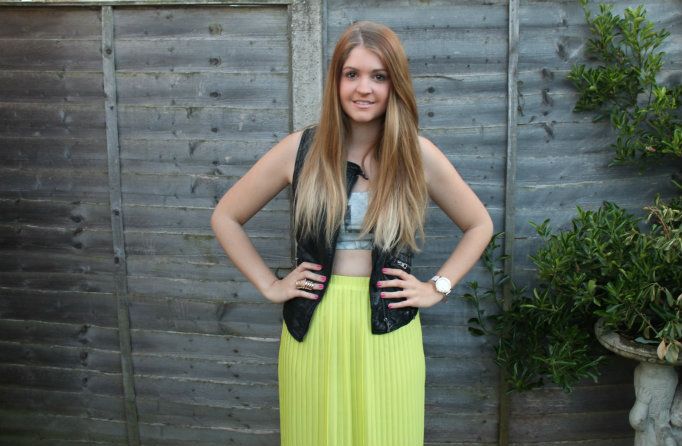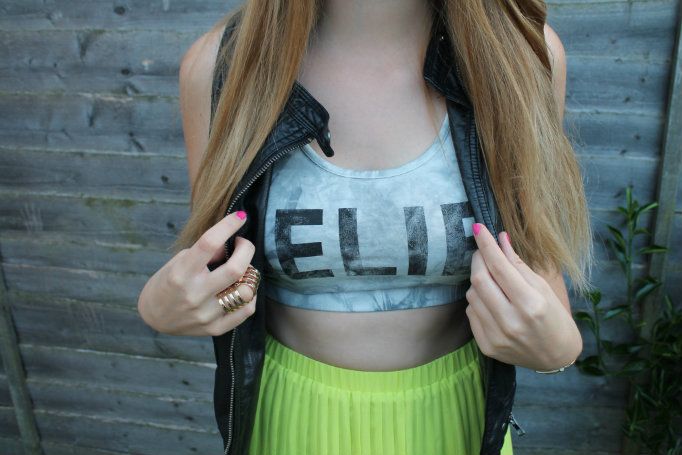 Gilet: Zara Crop: Topshop Skirt: New Look Sandals: River Island
Hello! So I was going to post my version of a week in photos but seems as it has actually stopped raining I thought I'd nab some time to take some pictures. I think this is one of my favourite outfits at the moment, I seem to be drawn to pleated skirts with cropped tops. This skirt is VERY bright, even more so that it looks in the photos. I do receive a few looks when I wear it but oh well I love it! I wasn't sure on these bralets that Topshop seem to be churning out everyday, I do admit though after seeing Rihanna rocking the PEACE version it did sway me towards the one I purchased (so easily swayed) and yes the title of this post does reflect my riri love. I think this would be a perfect holiday outfit too, me and my boyfriend are planning to take a city break in August, at the moment we're torn between Paris or Barcelona. I've been to Paris a few times but at the age of about 14 so I didn't appreciate it in the same way I would now. Any tips or advice to help us decide?
In other more serious news I have take it upon myself to go on a spending ban.gulp. I logged into my online credit card statement last night (huge mistake) and was shocked by how much I'd let it creep up! I always tell myself oh I'll pay it off but I never do I just end up buying more! So as of last night I am spending zilcho pennies on clothes for 2 weeks, I know that doesn't seem that long of a time but in my shopping head it's forever! Although I do have a few things arriving in the post this week and I might have bought that Zara necklace I mentioned in the post below (but that was yesterday). Wish me luck!
I hope everyone has had a lovely weekend and enjoy whatever you may be up to today, more from me soon!
Tilly xo