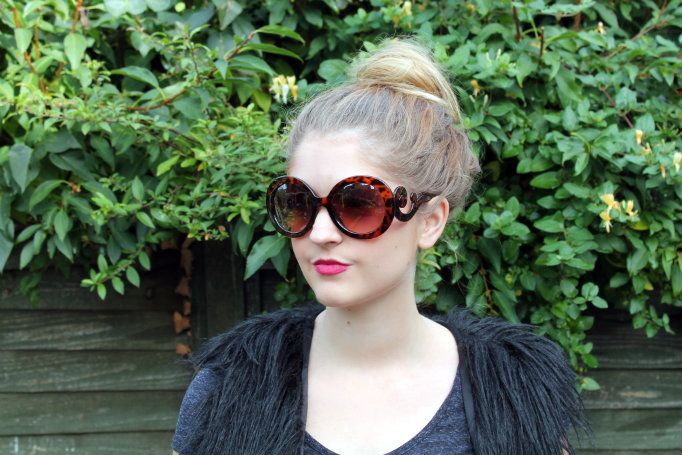 Gilet: ROMWE Dress: River Island Shoes: Asos Sunglasses: Ebay
Hi guys, another outfit post, I think I'm getting back into the swing of things! I do have to apologise for the slightly sour look I'm giving off, I wasn't best impressed with the Willy Wonka jokes my mum was cracking and finding hilarious, pfft.
So this dress is another one of my River Island sale purchases, I first spotted it in store at the beginning of September but they only had big sizes left and I was a bit miffed! Luckily I spotted it in the sale online for only £12! It's one of those dresses I can pair tights with in winter and go bare legs with in summer, perfect. I didn't really accessorise today as I wanted to let my new lipstick do the talking! I usually stick to peachy/nudes when it comes to lipstick but I was feeling daring. Kat from Jemima&Ted recommended the Kate Moss for Rimmel lipstick to me for a nice winter shade and I love it! It's not the darkest shade in the collection, the one below I think! I decided to chuck my hair up in a bun and I think it looks like a walnut whip?!
I hope you all have a fabulous weekend, I'm going to try and post regularly this week so watch this space!
Tilly xo