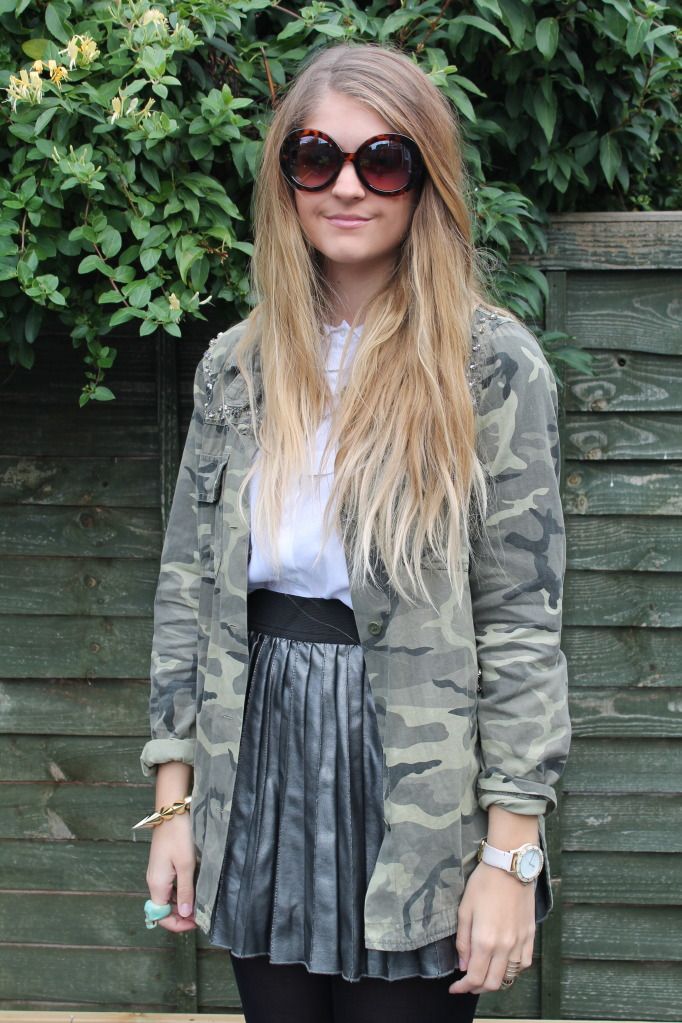 Jacket: Zara Shirt: River Island Skirt: Primark Shoes: Asos Sunglasses: eBay Skull ring: Topshop Cat ring & spike bracelet: eBay Watch: Marc Jacobs
Hello hello! Wow it's been a mental week. I've been a bit absent from the blog/twitter/life as I started my proper first week at uni which has tired me out no end. The classes themselves are fine it's just my hellish commute that makes me so tired. Hopefully I'll get into a routine soon though!
Onto todays outfit, I got my mits on the new version of THE Primark skirt. I do also have the black one and seems as I've worn it roughly ten billion times I knew I ought to pick up this metallic version. I really love these skirts even for someone who isn't really a Primark fan! Note to self though; I need a pair of warmer tights! It's getting chilly out there and my legs are freezing. I teamed it with my camo jacket which is something I was sooo desperate for but actually haven't worn all that much and a white shirt from River Island. I always tend to tuck shirts into these skirts. I do have a lot which helps.
Hopefully I'll be posting more frequently this week! I'm trying to sort myself out, it doesn't help that I'm still getting calls from solicitors (re: car accident) and trying to clear up that mess! My head is such a confused blur at the moment. Today I just have a few errands to run then I'll be snuggling inside and cooking some pasta! So, have you guys been buying over this payday weekend? I picked up the peplum I featured in my latest wish list! 20% off too yay!
Tilly xo
p.s I need new shoes