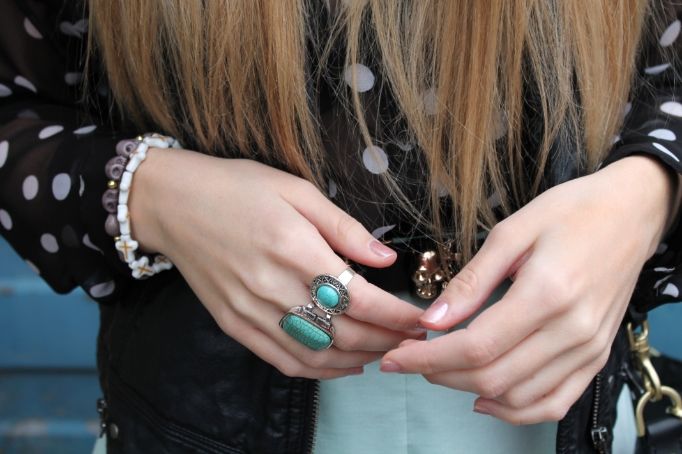 Skirt: Topshop Shirt: Primark (old) Gilet: Zara Hat: Asos Bag: Mulberry Circle Turquoise Ring: c/o Jimmy and his Girl Square Turquoise Ring: Bought in Greece Bracelets: Topshop Sale
I was hoping for a little bit of sunshine today so I had an excuse to hide my tired eyes behind a pair of massive sunglasses but no another dull and dreary day. It's just started to sprinkle with snow outside which pleases me no end. not. I had the week from hell this week and right now I should really be revising for an exam on Tuesday but all I want to do is relax. Only 4 weeks left until the Easter holidays, I'm counting down the days! It's also my 21st in a couple of weeks but I'm certainly not counting down the days for that. Can I just stay 20 forever plz?
I'm not wearing anything new today really as I'm trying to hold back from spending too much money at the moment! I am wearing a gorgeous new ring however from brand Jimmy and his Girl, if you're into cute rings I suggest you check them out! They also stock necklaces and other lovely pieces too so do have a look. Although I did just say I'm trying not to spend money (which is true) I did order a couple of pairs of shoes this week but I deem them very much needed so it's ok. I need to get out of my flatforms I've been living in them for too long!
Tilly xo