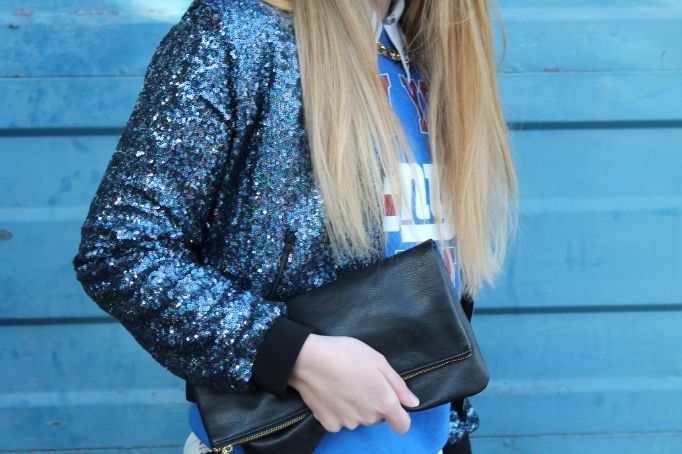 #teenvogue Sequin Bomber: c/o Lashes of London Jumper: Asos Marketplace Shirt: Zara Discos: American Apparel Necklace: Asos Clutch: H&M Flatforms: Asos
Hello! I'm wearing one of my favourite outfits of late today. I was kindly gifted this beautiful jacket from Lashes of London and it's an absolute dream. I think it's going to have to be peeled off me as I don't ever want to take it off! I teamed it with my discos which I don't think I've actually featured on here before. I opted for a navy pair as the black were sold out on asos, I do now want get a black pair too as I think I'd get a lot of wear out of them. I know there are so many copies and what not about but I still love them! The jumper I scouted out on asos marketplace has become one of my favourite items in my wardrobe and I want to buy a few more similar ones.
I'm so glad it's finally the weekend, I'm having a pretty chilled one although I might pop into Cambridge at some point to have a little mooch around. I'll hopefully have some time to blog my outfits over the weekend. I'll be checking out all the street style from LFW too, something I always look forward to! I hope everyone has a lovely weekend.
Tilly xo